Alarm systems are an important part of your tenant's security as well the protection of your property. We have been asked several times asked about what type of alarm system should be used in a
rental property
. Today, we're talking to owners, landlords, tenants, and anyone buying a new house about one great option that's affordable and reliable.
Simply Safe Alarm System
The system we use at Dennis Property Management is called the Simply Safe Alarm System. It is a wonderful new invention that has recently come out, and we like it a lot. It's a totally wireless alarm system that's very inexpensive. The monitoring is only $14.95 a month, and you can go month to month, without any contracts.
Components of a Good Alarm System
The system we purchase works for medium size homes that are between 1,700 and 2,200 square feet. There are simpler versions and more complex systems as well. With what we use, there is a base station, which is the brains of the operation. It's wireless and has a cell phone in it. The base station can call for help, even if a phone line in the house is not available. There's also a wireless siren on the outside of house. Two door sensors come with the basic package, and what we buy gives us four. You can install these things yourself. It's very simple and saves you a lot of money. You'll also get a glass break sensor, and smoke detectors as an option. Panic buttons are available for your master bedroom or your safe room. There are also motion sensors and two on/off controls for your key-chain.
Easy and Efficient Installation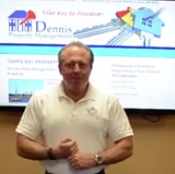 The control panel can go anywhere in your house, and it's easy to move if you don't like where it is initially placed. There are no wires at all. The batteries light up, and you can have the whole thing hooked up in 20 minutes. What we buy is a system for only $489, and we also get some add-ons. If you have any questions, check out the system's website. I personally use this product myself, and I know it works. If you have questions about security or property management in Tampa Bay, please contact us at Dennis Property Management.